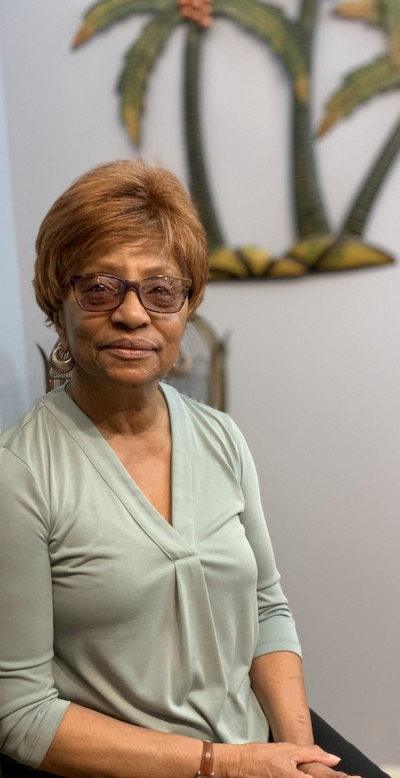 Growing up in an immigrant community in Brooklyn, NY, I was always fascinated with people: the climates and typography of the country they came from, the musicality or lack of such in the languages they spoke, the uniqueness of the clothes they wore, the different spicing of their foods; the discovery that everyone did not worship as my family did.  My curiosity led me to travel to many places: driving across Europe: Spain, France, Germany, Switzerland and Italy. The differences/uniqueness of the wines and foods were wonderfully amazing! Eastern Mediterranean: Egypt, Israel, Palestine, Cyprus, Turkey, Greece and the Greek Isles.
As a poet, writer and writing consultant whose poetry and fiction my work has appeared in such publications as New City Voices: An Anthology, Long Journey Home, an anthology, CONFIRMATIONS: An Anthology of African American Women, Drum, Black American Literature Forum, Central Park: A Journal of the Arts and Social  Theory and New Rain.
I found it hard to believe the Pyramids were literally at the edge of Cairo, and that camels were not at all romantic. They spit!  The stark difference between the aridness of Palestine and the lushness of Israel was mind boggling.  South America: Venezuela and the Isle of Marguarita. The isolation and underdevelopment of the island was an unexpected respite from delightful but crowded Caracas.  West Africa: Senegal and the Gambia.  Several trips to Ghana inspired me to start an import business specializing in furniture and antiques from Ghana, Togo and Benin.  And several trips to India where the plethora of religions was astounding.
CV
Curriculum publications include My Village, My Country, My World/Leadership, two mini-courses for black young adults, and Our Work and God's World, a vocation curriculum for grades eleven and twelve. These texts were developed for the Presbyterian Church (U.S.A).  My Identity: A Gift from God, was published by the Presbyterian Church of Korea.
Discussion/reflection materials include, "Daring to Say No," essays on Lucy Parson, labor organizer, and Zora Neale Hurston, anthropologist, folklorist and novelist, published by Groundwork for a Just World.
Ms. Williams has performed her work nationally in high schools, colleges, churches, as well as on national radio. She has participated in various panel discussions and dialogues on issues relating to the black community, Womanism, and writing.  
As an associate with Writer's Insight, a writing consultant agency, Ms. Williams designed and conducted writing workshops for students and teachers in high schools, colleges and various civic and community institutions and organizations. She also served as a Managing Editor for Metro Exchange a monthly newspaper published by Intergroup Marketing & Communications, Inc.
Ms. Williams is a founding member of Metamorphosis Writer's Collective and "Ain't I a Woman" Writers Collective, and a member of New Renaissance Writers Guild, and New Bones, a promotion/production group designed to promote black literature and music.
Ms. Williams is currently pursuing multiple publication opportunities for her large body of work and continuing to follow the myriad ways we humans choose to live our lives.